Key Concepts in VCE Health and Human Development Units 3 & 4 4E eGuidePLUS (Online Purchase)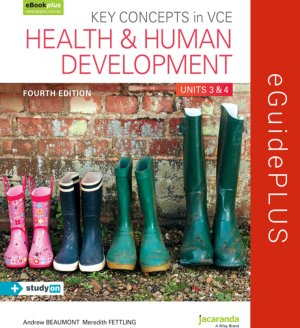 Title information

| | |
| --- | --- |
| Author/s | Beaumont |
| ISBN13 | 9780730322207 |
| Pub date | December 2015 |
| Pages | 0 |
| RRP | $114.95 |
Add to cart
Jacaranda will be publishing a 5th edition of Jacaranda Key Concepts in VCE Health and Human Development Units 3 and 4, available in 2017 to align with the new Study Design for 2018-2022. The updated title will be available as print with eBookPLUS, digital only and eGuidePLUS. Please visit the Jacaranda VCE Health and Human Development page for more information.
Key Concepts in VCE Health & Human Development Units 3 and 4, Fourth edition eGuidePLUS (Online Purchase) provides teachers online support through instant access to student and teacher texts plus a complementary set of extensive, customisable assessment and curriculum materials to make teacher planning and preparation easier.

Features and benefits

• Written by highly experienced, passionate authors who are subject experts and have a fundamental understanding of how students learn Health and Human Development and succeed in exams.
• Teachers save time with answers to all questions in the text, chapter tests and sample assessment tasks.
• Teaching advice and suggested additional resources help teachers organise and prepare more engaging lesson plans.
• Sample assessment tasks and a year planner ensure teachers are fully equipped with extensive support material to plan their teaching program.

Teachers can rely on Jacaranda's dedicated customer service and support.


UNIT 3:
Australia's health
Chapter 1: Health of Australians
Chapter 2: The determinants of health
Chapter 3: Variations in health within Australia
Chapter 4: The National Health Priority Areas (NHPAs)
Chapter 5: Nutrition and the NHPAs
Chapter 6: Health care in Australia
Chapter 7: Promoting healthy eating in Australia
UNIT 4:
Global health and human development
Chapter 8: Global health and human development
Chapter 9: Sustainable Development Goals
Chapter 10: Australian and international aid agencies
Chapter 11: Addressing global health issues