Key Concepts in VCE Legal Studies Units 3 & 4 2E eGuidePLUS (Online Purchase)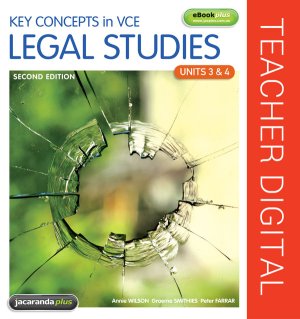 Title information

| | |
| --- | --- |
| Author/s | Wilson |
| ISBN13 | 9781118310557 |
| Pub date | November 2012 |
| Pages | 0 |
| RRP | $114.95 |
Add to cart
Jacaranda will not be publishing a new edition after the end of 2017.

Key Concepts in VCE Legal Studies Units 3 & 4 2E eGuidePLUS (Online Purchase)
for teachers contains a HTML and PDF version of the entire student text as well as a complimentary set of targeted electronic resources. These flexible and engaging ICT activities are available online at the JacarandaPLUS website (
www.jacplus.com.au
).
The eGuidePLUS includes online access to:
• answers to all the questions in the student textbook
• answers to all crosswords
• lesson advice providing ideas about how to teach Legal Studies in an engaging way

What is onlinepurchase?
onlinepurchase is a Jacaranda digital only product.
Following payment you will receive a registration code via email.
Go to www.jacplus.com.au to register your code and access your digital resource.
Unit 3 Law-making
Chapter 1 Parliament and the citizen
Chapter 2 The Commonwealth Constitution
Chapter 3 The protection of rights under the Commonwealth Constitution
Chapter 4 The role of the courts as law‑makers
Unit 4 Resolution and justice
Chapter 5 Dispute resolution methods
Chapter 6 The elements of an effective legal system
Chapter 7 The adversary system
Chapter 8 Criminal procedure
Chapter 9 Civil procedure
Chapter 10 The jury system
Chapter 11 Evaluating the effectiveness of the legal system