Key Concepts VCE Health and Human Development Units 3&4 5E Ebk & Print+s/On�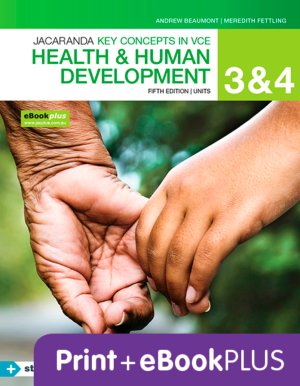 Title information

| | |
| --- | --- |
| Author/s | Beaumont |
| ISBN13 | 9780730346258 |
| Pub date | November 2017 |
| Pages | 560 |
| RRP | $94.95 |
Add to cart
Jacaranda Key Concepts in VCE Health & Human Development Units 3 & 4 5e eBookPLUS & Print + studyON
This combined print and digital title has been re-written to provide 100% coverage of the new Study Design for 2018-2022. Our authors, including teacher and VCAA assessor Andrew Beaumont, have taken the opportunity to update the copy (including any relevant statistics or guidelines that have changed since the previous edition) and imagery, for a fresh take on a best-selling series.

The textbook comes with a complimentary activation code for eBookPLUS, which provides students with opportunities to extend their knowledge and skills by engaging with videos, interactivities and links to relevant content on the internet.

In addition, Jacaranda's unique exam preparation tool, studyON, is now included and fully integrated across the entire series. Featuring 10+ years of VCAA exam questions, studyON maximises every student's opportunity for exam success.
Chapter 1: Concepts of health and wellbeing
Chapter 2: Measuring health status
Chapter 3: Factors influencing health status
Chapter 4: Variations in health status between population groups
Chapter 5: Changes in Australia's health status
Chapter 6: Australia's health system
Chapter 7: Targets of health promotion in Australia
Chapter 8: Global health: comparing health status and burden of disease
Chapter 9: Sustainability and human development
Chapter 10: Sustainability and its effect on health and wellbeing in Australia
Chapter 11: Sustainable Development Goals and World Health Organization
Chapter 12: Australian aid and NGOs
Chapter 13: Programs addressing the Sustainable Development Goals