Live It Up 2 VCE Physical Education Units 3&4 3E & eBookPLUS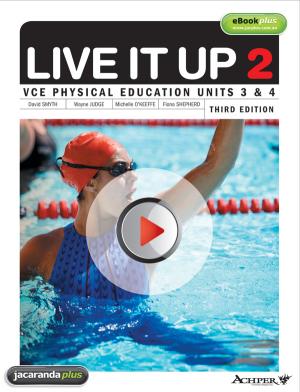 Title information

| | |
| --- | --- |
| Author/s | Judge |
| ISBN13 | 9781742461342 |
| Pub date | October 2010 |
| Pages | 464 |
| RRP | $89.95 |
Add to cart
How to use this book.
About eBookPLUS.
ICT activities.
Acknowledgements.
Preface.
Chapter 1 Physical Activity and Participation.

Chapter 2 Energy for Physical Activity.

Chapter 3 Acute Responses to Exercise.

Chapter 4 Fatigue and Recovery.

Chapter 5 Fitness Components and Activity Analysis.

Chapter 6 Fitness assessment.

Chapter 7 Fitness Training - principles and methods.

Chapter 8 Designing a training program.

Chapter 9 Chronic Adaptations to training.

Chapter 10 Strategies to enhance performance and recovery.

Chapter 11 Ergogenic aids.

Glossary.
Index.