Live It Up 2 VCE Physical Education Units 3&4 3E Teacher eGuidePLUS (Online Purchase)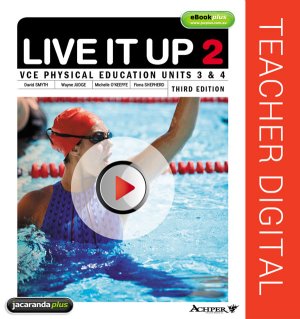 Title information

| | |
| --- | --- |
| Author/s | Judge |
| ISBN13 | 9781742461380 |
| Pub date | December 2010 |
| Pages | 0 |
| RRP | $117.95 |
Add to cart
Jacaranda will be publishing a 4th edition of Jacaranda Live It Up 2 Units 3 and 4, available in 2017 to align with the new Study Design for 2018-2021. The updated title will be available as print with eBookPLUS, digital only and eGuidePLUS. Please visit the Jacaranda VCE Physical Education page for more information.
Live It Up 2 VCE Physical Education Units 3 and 4 Teacher eGuidePLUS 3E (Online Purchase)
for teachers contains a HTML and PDF version of the entire student text as well as a complimentary set of targeted digital resources. These flexible and engaging ICT activities are available to you online at the JacarandaPLUS website (
www.jacplus.com.au
).
Your eGuidePLUS resources include:
answers to all activities in the textbook
advice and suggested additional resources
a curriculum grid and year planner
What is onlinepurchase?
onlinepurchase is a Jacaranda digital only product.
Following payment, you will receive a registration code via email.
Go to www.jacplus.com.au to register your code and access your digital resource.
Chapter 1 Physical Activity and Participation
Chapter 2 Energy for Physical Activity
Chapter 3 Acute Responses to Exercise
Chapter 4 Fatigue and Recovery
Chapter 5 Fitness Components and Activity Analysis
Chapter 6 Fitness assessment
Chapter 7 Fitness Training - principles and methods
Chapter 8 Designing a training program
Chapter 9 Chronic Adaptations to training
Chapter 10 Strategies to enhance performance and recovery
Chapter 11 Ergogenic aids