Live It Up 2 VCE Units 3 and 4 4E eBookPLUS & Print + StudyOn VCE Physical Education Units 3 and 4 2E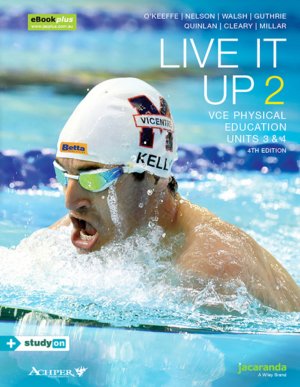 Title information

| | |
| --- | --- |
| Author/s | O'keeffe |
| ISBN13 | 9780730329305 |
| Pub date | August 2017 |
| Pages | 0 |
| RRP | $89.95 |
Add to cart
Jacaranda Live It Up 2 VCE Units 3 & 4 4e eBookPLUS & Print + studyON
This combined print and digital title has been has been completely re-written to tailor the content to each outcome from the new Study Design for 2018-2021, providing teachers and students with clear links between the content and the curriculum. A refreshed design, updated imagery and useful visual learning aids make it the most visual edition ever.

The textbook comes with a complimentary activation code for eBookPLUS, which provides students with opportunities to extend their knowledge and skills by engaging with videos, interactivities and links to relevant content on the internet.

In addition, Jacaranda's unique exam preparation tool, studyON, is now included and fully integrated across the entire series. Featuring 10+ years of VCAA exam questions, studyON maximises every student's opportunity for exam success.
Chapter 1: Movement skills
Chapter 2: Biomechanical principles
Chapter 3: Instruction and stages of coaching and learning
Chapter 4: Practice strategies and feedback
Chapter 5: Energy systems and interplay of energy systems
Chapter 6: Acute changes
Chapter 7: Activity analysis
Chapter 8: Fitness components
Chapter 9: Fitness assessment rationale/tests
Chapter 10: Monitoring and planning a training program
Chapter 11: Training program: principles and methods
Chapter 12: Chronic adaptations
Chapter 13: Performance enhancement and recovery strategies – Psychological, Nutritional and Hydration