Maths Quest 7 for the Australian Curriculum 2E Teacher Edition eGuidePLUS (Online Purchase)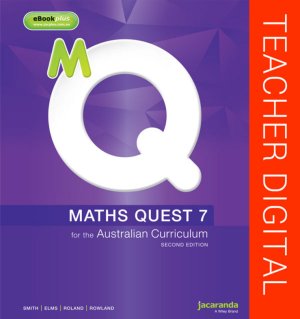 Title information

| | |
| --- | --- |
| Author/s | Smith |
| ISBN13 | 9780730317593 |
| Pub date | November 2014 |
| Pages | 0 |
| RRP | $117.95 |
Add to cart
Jacaranda will be publishing a 3rd edition of Jacaranda Maths Quest 7 for the Australian Curriculum in 2017 for use in 2018. The updated title will be available as print or a new eBook powered by learnON, the immersive digital learning platform. Please visit the
Jacaranda Australian Curriculum Mathematics page
for more information.

Maths Quest 7 for the Australian Curriculum Second edition eGuidePLUS
provides online teacher support through instant access to student and teacher texts. The
eGuidePLUS
also includes a complementary set of targeted digital resources to make teacher planning and preparation easier. These flexible and engaging
ICT activities
are available to you online at the
JacarandaPLUS
website (
http://www.jacplus.com.au/
).
>
eGuidePLUS
resource includes:
• The entire textbook in electronic format, accessible from any digital device
PC/MAC/iPad/Android Tablet.
• Work programs for every chapter listing all of the available resources.
• Curriculum grid linking all material to the Australian Curriculum.
• Interactivities and a wealth of ICT resources.
• Skillsheets, WorkSheets and chapter tests designed for easy customisation and editing.
Topic 1 Numeracy
Topic 2 Positive integers
Topic 3 Indices and primes
Topic 4 Rational numbers
Topic 5 Geometry
Topic 6 Decimals
Topic 7 Percentages
Topic 8 Algebra
Topic 9 Measurement
Topic 10 Probability
Topic 11 Numeracy 2
Topic 12 Positive and negative integers
Topic 13 Linear equations
Topic 14 Representing and interpreting data
Topic 15 Coordinates and the Cartesian plane
Topic 16 Transformations
Topic 17 Views of 3-D shapes
Topic 18 Money
Topic 19 Numeracy 3