Maths Quest 9 for New South Wales Australian Curriculum Edition, Stages 5.1, 5.2 and 5.3 Teacher Edition eGuidePLUS (Online Purchase)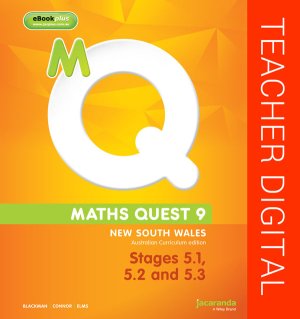 Title information

| | |
| --- | --- |
| Author/s | Cahn |
| ISBN13 | 9781118599501 |
| Pub date | November 2013 |
| Pages | 0 |
| RRP | $114.95 |
Add to cart
Jacaranda will be publishing a 2nd edition of Jacaranda Maths Quest 9 Stage 5 for the NSW Australian curriculum in 2017 for use in 2018. The Stage 5 edition also now covers the 5.1, 5.2 and 5.3 streams in a single text, with each sub-section clearly marked to show the stream that it covers. The new edition has been updated to comprehensively cover 100% of the NSW Australian curriculum, and will be available as print or a new eBook powered by learnON, the immersive digital learning platform. Please visit the Jacaranda NSW Australian curriculum Mathematics page for more information.

Maths Quest 9 NSW Australian curriculum Stages 5.1, 5.2 and 5.3 Teacher Edition eGuidePLUS (Online Purchase) provides online teacher support through instant access to student and teacher texts. It also includes a complementary set of targeted digital resources with answers to all questions in the text to make teacher planning and preparation easier. These flexible and engaging ICT activities are available to you online at the JacarandaPLUS website (http://www.jacplus.com.au/).

KEY FEATURES

• Detailed work programmes which map the text to the NSW Australian Curriculum.
• Two chapter tests are provided for each chapter.




> eGuidePLUS resource includes:
• The entire textbook in electronic format, accessible from any digital device PC/MAC/iPad/Android Tablet.
• Skillsheets, WorkSheets and chapter tests designed for easy customisation and editing.
• Interactive activities and a wealth of ICT resources.
• Electronic tutorials for key worked examples.
• Fully worked solutions to the exam practice sections.
• A work program.
Numeracy
Number skills
Algebra
Linear equations
Congruence and similarity
Trigonometry
Linear and non-linear graphs
Proportion and rates
Problem solving I
Indices
Financial mathematics
Measurement
Probability
Statistics
Problem solving II
Quadratic algebra
Quadratic functions