Maths Quest HSC Mathematics General 2 Solutions Manual 4E Flexisaver & eBookPLUS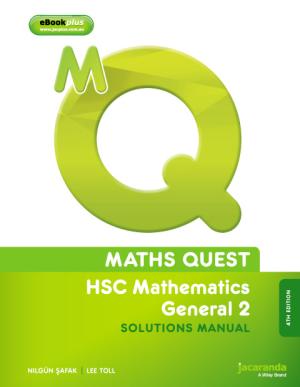 Title information

| | |
| --- | --- |
| Author/s | Rowland |
| ISBN13 | 9781118606483 |
| Pub date | September 2013 |
| Pages | 216 |
| RRP | $44.95 |
Add to cart
Maths Quest HSC Mathematics General 2 Solutions Manual 4E Flexisaver and eBookPLUS
is written for the 2013 Mathematics General Stage 6 Syllabus. This text provides comprehensive coverage of the five syllabus areas: Financial mathematics, Data and Statistics, Measurement, Probability and Algebraic modelling.
HSC Mathematics General 2, Solutions Manual 4E Flexisaver & eBookPLUS
provide students with a flexible, cost-saving alternative to the Solutions Manual.
FlexiSavers
are priced at 70% of the RRP of a standard textbook and are packaged as shrink-wrapped, looseleaf pages - making them ideal for student binders. All
Jacaranda FlexiSavers
include access to eBookPLUS.
JACARANDA FLEXISAVER BENEFITS FOR PARENTS & STUDENTS:
1. 30% cost saving
2. Flexible format enables insertion of students and teacher notes throughout
3. Lightweight option of only bringing the chapters required to school
Maths Quest HSC Mathematics General 2 Solutions Manual 4E Flexisaver & eBookPLUS is a flexible version of the Solutions Manual accompanied by the eBookPLUS. It contains fully worked solutions to every question in the Maths Quest HSC Mathematics General 2 student textbook.


> eBookPLUS resources include:
• Access from any digital device PC/MAC/iPad/Android Tablet.
• Worksheets - Word documents designed for easy customisation and editing.
• Interactivities and games to reinforce and enhance student learning.
• eLessons - engaging video clips and supporting material.
• Weblinks to relevant support material on the internet.
• ProjectsPLUS - unique ICT-based projects that provide opportunities for students to demonstrate creativity, thinking skills and teamwork.
• eBookPLUS resources are cost effective, ranging in price from $25.95 - $53.95 depending on your subject area.
About eBookPlus v
Chapter 1 — Credit and borrowing 1
Exercise 1A — Credit cards 1
Exercise 1B — Flat rate interest 3
Exercise 1C — Loan repayments 6
Exercise 1D — Present value and future value 8
Chapter review 11
Multiple choice 11
Short answer 11
Extended response 15
Chapter 2 — Annuities and loan repayments 17
Exercise 2A — Future value of an annuity 17
Exercise 2B — Present value of an annuity 18
Exercise 2C — Loan repayments 19
Exercise 2D — Loan repayment graphs 23
Chapter review 24
Multiple choice 24
Short answer 25
Extended response 26
Chapter 3 — Interpreting sets of data 27
Exercise 3A — Grouped data 27
Exercise 3B — Measures of location and spread 29
Exercise 3C — Analysis of data sets 31
Exercise 3D — Comparison of data sets 33
Exercise 3E — Skewness 35
Chapter review 35
Multiple choice 35
Short answer 35
Extended response 39
Chapter 4 — The normal distribution 41
Exercise 4A — z-scores 41
Exercise 4B — Comparison of scores 44
Exercise 4C — Distribution of scores 46
Chapter review 48
Multiple choice 48
Short answer 49
Extended response 51
Chapter 5 — Sampling and populations 53
Exercise 5A — Sampling 53
Exercise 5B — Samples and means 53
Exercise 5C — Estimating populations 54
Chapter review 56
Multiple choice 56
Short answer 56
Extended response 56
Chapter 6 — Further applications of area and
volume 57
Exercise 6A — Relative error 57
Exercise 6B — Area of parts of the circle 59
Exercise 6C — Area of composite shapes 60
Exercise 6D — Simpson's rule 66
Exercise 6E — Surface area of some prisms 68
Exercise 6F — Surface area of cylinders and spheres 69
Exercise 6G — Volume of other solids 71
Exercise 6H — Volume of composite solids 73
Exercise 6I — Error in measurement 77
Chapter review 79
Multiple choice 79
Short answer 79
Extended response 83
Chapter 7 — Applications of trigonometry 85
Exercise 7A — Review of right-angled triangles 85
Exercise 7B — Using the sine rule to find side
lengths 87
Exercise 7C — Using the sine rule to find angles 89
Exercise 7D — Using the cosine rule to find side
lengths 92
Exercise 7E — Using the cosine rule to find angles 93
Exercise 7F — Area of a triangle 95
Exercise 7G — Bearings 97
Exercise 7H — Radial surveys 102
Chapter review 108
Multiple choice 108
Short answer 109
Extended response 112
Chapter 8 — Spherical geometry 115
Exercise 8A — Arc lengths 115
Exercise 8B — Great circles and small circles 116
Exercise 8C — Latitude and longitude 117
Exercise 8D — Distances on the Earth's surface 118
Exercise 8E — Time zones 119
Chapter review 121
Multiple choice 121
Short answer 121
Extended response 122
Chapter 9 — Multi-stage events and applications of
probability 125
Exercise 9A — Counting techniques 125
Exercise 9B — Tree diagrams 126
Exercise 9C — Probability and counting techniques 129
Exercise 9D — Expected outcomes 132
Chapter review 134
Multiple choice 134
Short answer 134
Extended response 136
Chapter 10 — Further algebraic skills and techniques 137
Exercise 10A — Addition and subtraction of algebraic
expressions 137
Exercise 10B — The index laws 138
Exercise 10C — Expanding and simplifying 140
Exercise 10D — Solving equations 141
Exercise 10E — Equations and formulas 149
Chapter review 151
Multiple choice 151
Short answer 152
Extended response 153
Chapter 11 — Modelling linear relationships 155
Exercise 11A — Linear functions 155
Exercise 11B — Direct variation 158
Exercise 11C — Linear modelling 159
Exercise 11D — Problem solving 161
Exercise 11E — Simultaneous equations 164
Chapter review solutions 168
Multiple choice 168
Short answer 168
Extended response 170
Chapter 12 — Modelling non-linear relationships 171
Exercise 12A — Quadratic functions 171
Exercise 12B — Cubics, hyperbolas and exponential
functions 174
Exercise 12C — Direct variation 176
Exercise 12D — Inverse variation 178
Exercise 12E — Graphing physical phenomena 181
Chapter review 183
Multiple choice 183
Short answer 183
Extended response 185
Chapter 13 — Mathematics and health 187
Exercise 13A — Drawing scatterplots 187
Exercise 13B — Correlation 189
Exercise 13C — Fitting a regression line 190
Exercise 13D — Units of measurement 192
Exercise 13E — Dosage rate 193
Exercise 13F — Life expectancy 196
Chapter review 197
Multiple choice 197
Short answer 197
Extended response 198
Chapter 14 — Mathematics and resources 199
Exercise 14A — Interpreting information about
water usage 199
Exercise 14B — Collecting and using water 201
Exercise 14C — Dams, land and catchment areas 202
Exercise 14D — Energy and sustainability 203
Chapter review 205
Multiple choice 205
Short answer 205
Extended response 207