Maths Quest Maths a Year 12 for Queensland 2E Solutions Manual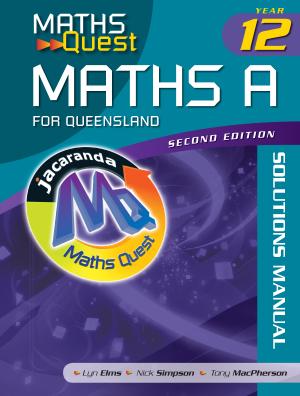 Title information

| | |
| --- | --- |
| Author/s | Elms |
| ISBN13 | 9781742160351 |
| Pub date | December 2009 |
| Pages | 320 |
| RRP | $49.95 |
Add to cart
This second edition of Maths Quest Maths A Year 12 for Queensland is a comprehensive text. This series also features a Solutions Manual which contains the fully worked solutions to every question and investigation in the student textbook, and is presented in a coil-bound format.


Chapter 1.   Simple and Compound Interest.

Chapter 2.   Appreciation and Depreciation.

Chapter 3.   Consumer Credit and investments.

Chapter 4.   Exploring and understanding data.

Chapter 5.   Navigation.

Chapter 6.   Land Measurement.

Chapter 7.   Linear programming.

Chapter 8.   Networks.

Chapter 9.   Critical Path analysis and queuing.

Chapter 10. Probability and the binomial distribution.

Chapter 11. The normal distribution and games of chance.

Appendix: TI-89 Titanium graphics calculator.