Maths Quest Maths C Year 12 for Queensland 2E & eBookPLUS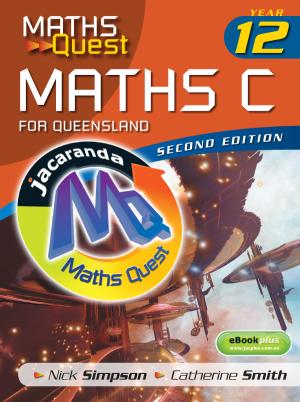 Title information

| | |
| --- | --- |
| Author/s | Simpson |
| ISBN13 | 9781742160405 |
| Pub date | November 2009 |
| Pages | 728 |
| RRP | $84.95 |
Add to cart
Maths Quest Maths C Year 12 for Queensland 2E with eBookPLUS
is a new edition of this highly successful student text designed to meet the requirements of the revision of the Maths C syllabus for implementation from 2009.
Maths Quest for Queensland
Years 11 and 12 are now fully supported by Teacher Editions, eBookPLUS, eGuidePLUS and Solutions Manuals.
This title features eBookPLUS which is provided FREE with the textbook, but is also available for purchase separately. eBookPLUS is an electronic version of the textbook and a complementary set of targeted digital resources. These flexible and engaging ICT activities are available to you online at the JacarandaPLUS website (www.jacplus.com.au).

Your eBookPLUS resources include:
• The entire textbook in electronic format
• Word documents, including worksheets and skillsheets, designed for easy customisation and editing
• Interactive activities and a wealth of ICT resources
• Electronic worked examples
• Fully worked solutions to the Exam Practice sections


Click here to view Maths Quest Maths C Year 12 for Queensland Second Edition eBookPLUS.
1.   Complex Numbers
2.   Matrices and Applications
3.   Vectors
4.   Integral Calculus and numerical methods
5.   Differential equations
6.   Structures and patterns
7.   Advanced periodic functions (option topic)
8.   Advanced exponential functions (option topic)
9.   Conics on the Cartesian and complex planes (option topic)
10. Parametric and polar equations of conic sections (option topic)
11. Dynamics 1 (option topic)
12. Dynamics 2 (option topic)