Maths Quest Preliminary Mathematics General 4E Solutions Manual Flexisaver & eBookPLUS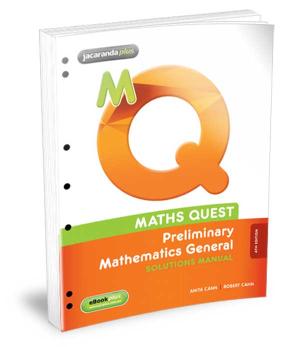 Title information

| | |
| --- | --- |
| Author/s | Rowland |
| ISBN13 | 9781118511756 |
| Pub date | November 2012 |
| Pages | 160 |
| RRP | $44.95 |
Add to cart
Jacaranda will be publishing a 5th edition of Jacaranda Maths Quest 11 Mathematics Standard, available in 2017 to meet the requirements of the new Stage 6 Syllabus (2017). The updated title will be available as print with eBookPLUS, digital only and eGuidePLUS. Please visit the Jacaranda Mathematics Standard Stage 6 page for more information.
Maths Quest PreliminaryMathematics General 4E Solutions Manaual Flexisaver with eBookPLUS

Shrink-wrapped, looseleaf textbook for student binder + eBookPLUS
Jacaranda FlexiSavers
provide students with a flexible, cost-saving alternative to the student textbook on your booklist.
FlexiSavers
are priced at 70% of the RRP of a standard textbook and are packaged as shrink-wrapped, looseleaf pages - making them ideal for student binders. All
Jacaranda FlexiSavers
include access to eBookPLUS.
JACARANDA FLEXISAVER BENEFITS FOR PARENTS & STUDENTS:
1. 30% cost saving
2. Flexible format enables insertion of students and teacher notes throughout
3. Lightweight option of only bringing the chapters required to school
Maths Quest Preliminary Mathematics General Fourth Edition is written for the 2013 Mathematics General Stage 6 Syllabus.
This text provides comprehensive coverage of the five strands: Financial Mathematics, Data and Statistics, Measurement, Probability, and Algebra and Modelling. It also covers the two Focus Studies: Mathematics and Communication, and Mathematics and Driving.
The Preliminary Mathematics General course is structured to prepare students for pathways to both the HSC Mathematics General 1 course and the HSC Mathematics General 2 course.
In this text, students are encouraged to understand and experience the application of mathematics in the world, to appreciate the beauty and wonder of mathematics, and to realise the possibilities for their own lives and careers that the study of mathematics can give them.
This text strives to ignite the potential in each student.
This resource contains the following award-winning features:
• Two major collaborative, online projects with an emphasis on the themes of the Focus Studies, delivered through ProjectsPLUS.
• Interactivities that bring concepts to life.
• Easy-to-follow worked examples in the Think–Write format.
• Carefully graded exercises that conclude with further development questions designed to extend and challenge students.
• Investigations to stimulate students' interest and engagement.
• Comprehensive chapter reviews.
• A glossary of mathematical terms that define the terminology introduced in each topic.
• eBookPLUS references throughout to direct students and teachers to relevant online material.


This title features eBookPLUS: an electronic version of the textbook and a complimentary set of targeted digital resources. These flexible and engaging ICT activities are available at the JacarandaPLUS website.

Your eBookPLUS resources include:

• the entire textbook in electronic format
• WorkSHEETS – Word documents to assist with revision and practice
• Spreadsheets
• ProjectsPLUS – two major online, collaborative projects
The Maths Quest Preliminary Mathematics General Solutions Manual 4e contains fully worked solutions to every question in the textbook.


Click here to view Maths Quest Preliminary Mathematics General Fourth Edition eBookPLUS.
About eBookPLUS vii
Chapter 1 — Earning money 1
Exercise 1A — Calculating salary payments 1
Exercise 1B — Calculating wages 1
Exercise 1C — Commission and royalties 2
Exercise 1D — Payment by piece 3
Exercise 1E — Working overtime 4
Exercise 1F — Government allowances 6
Exercise 1G — Additions to and deductions from gross pay 7
Exercise 1H — Budgeting 8
Chapter review 10
Multiple choice 10
Short answer 10
Extended response 11
Chapter 2 — Investing money 13
Exercise 2A — Calculation of simple interest 13
Exercise 2B — Graphing simple interest functions 13
Exercise 2C — Calculation of compound interest 15
Exercise 2D — Calculating compound interest from a table of compounded values 18
Exercise 2E — Share dividends 19
Exercise 2F — Graphing share performance 20
Exercise 2G — Inflation and appreciation 21
Chapter review 22
Multiple choice 22
Short answer 22
Extended response 23
Chapter 3 — Taxation 25
Exercise 3A — Calculating allowable deductions 25
Exercise 3B — Taxable income 26
Exercise 3C — Medicare levy 27
Exercise 3D — Calculating tax 27
Exercise 3E — Calculating GST and VAT 30
Exercise 3F — Graphing tax functions 31
Chapter review 32
Multiple choice 32
Short answer 32
Extended response 33
Chapter 4 — Statistics and society, data collection and sampling 35
Exercise 4A — Statistical processes 35
Exercise 4B — Target populations and sampling 36
Exercise 4C — Population characteristics 37
Exercise 4D — Types of data 38
Exercise 4E — Bias 38
Chapter review 39
Multiple choice 39
Short answer 39
Extended response 39
Chapter 5 — Displaying single data sets 41
Exercise 5A — Types of graphs and stem-and-leaf plots 41
Exercise 5B — Frequency tables and cumulative frequency 41
Exercise 5C — Range and interquartile range, deciles and percentiles 44
Exercise 5D — Five-number summaries 46
Exercise 5E — Appropriate graphs and misuse of graphs 48
Chapter review 50
Multiple choice 50
Short answer 50
Extended response 51
Chapter 6 — Summary statistics 53
Exercise 6A — Calculating the mean 53
Exercise 6B — Median and mode 55
Exercise 6C — Standard deviation 57
Exercise 6D — Best summary statistics 58
Chapter review 61
Multiple choice 61
Short answer 61
Extended response 62
Chapter 7 — Measurement 65
Exercise 7A — Measurements as approximations 65
Exercise 7B — Units of measurement and scientific notation 66
Exercise 7C — Ratios 67
Exercise 7D — Rates 69
Exercise 7E — Percentage change 71
Chapter review 72
Multiple choice 72
Short answer 72
Extended response 73
Chapter 8 — Perimeter, area and volume 75
Exercise 8A — Perimeter of plane shapes 75
Exercise 8B — Area of plane shapes 77
Exercise 8C — Field diagrams 79
Exercise 8D — Applications of area 80
Exercise 8E — Volume of prisms 81
Chapter review 83
Multiple choice 83
Short answer 83
Extended response 84
Chapter 9 — Similar figures and trigonometry 85
Exercise 9A — Similar figures and scale factors 85
Exercise 9B — Solving problems using similar figures 86
Exercise 9C — Calculating trigonometric ratios 88
Exercise 9D — Finding an unknown side 88
Exercise 9E — Finding angles 90
Exercise 9F — Applications of right-angled triangles 91
Chapter review 92
Multiple choice 92
Short answer 92
Extended response 93
Chapter 10 — Probability 95
Exercise 10A — Multi-stage events 95
Exercise 10B — The fundamental counting principle 96
Exercise 10C — Probability statements 97
Exercise 10D — Relative frequency 97
Exercise 10E — Equally likely outcomes 98
Exercise 10F — The probability formula 99
Exercise 10G — Writing probabilities as decimals and percentages 101
Exercise 10H — Range of probabilities 102
Exercise 10 I — Complementary events 104
Chapter review 105
Multiple choice 105
Short answer 106
Extended response 107
Chapter 11 — Algebraic manipulation 109
Exercise 11A — Operations with algebraic expressions 109
Exercise 11B — Further multiplication and division 110
Exercise 11C — Expanding and simplifying algebraic expressions 112
Exercise 11D — Substitution 113
Exercise 11E — Solving equations 115
Chapter review 119
Multiple choice 119
Short answer 119
Extended response 120
Chapter 12 — Modelling linear relationships 121
Exercise 12A — Graphing linear functions 121
Exercise 12B — Gradient and y-intercept 124
Exercise 12C — Drawing graphs using gradient and intercept 125
Exercise 12D — Simultaneous equations 126
Exercise 12E — Practical applications of linear functions 127
Chapter review 128
Multiple choice 128
Short answer 128
Extended response 130
Chapter 13 — Mathematics and communication 131
Exercise 13A — Calculating costs 131
Exercise 13B — Reading a mobile phone bill 131
Exercise 13C — Phone usage 131
Exercise 13D — Choosing the best mobile phone plan for your needs 132
Exercise 13E — Units of storage 132
Exercise 13F — Digital transfer rates 133
Exercise 13G — Random selection 133
Chapter review 134
Chapter 14 — Mathematics and driving 135
Exercise 14A — Depreciation of new cars 135
Exercise 14B — Insurance and stamp duty 136
Exercise 14C — Financing your vehicle 137
Exercise 14D — Fuel costs 138
Exercise 14E — Straight line depreciation 139
Exercise 14F — Declining balance method of depreciation 139
Exercise 14G — Speed and stopping distances 141
Exercise 14H — Blood alcohol concentration (BAC) 144
Chapter review 147
Multiple choice 147
Short answer 147
Extended response 148