New Concepts in Commerce 3E Student Eworkbook (Online Purchase)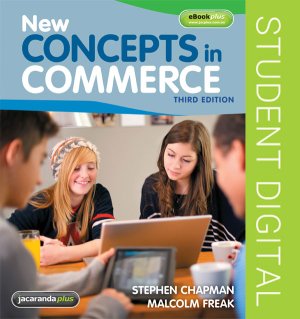 Title information

| | |
| --- | --- |
| Author/s | Stahl |
| ISBN13 | 9781118400968 |
| Pub date | December 2012 |
| Pages | 0 |
| RRP | $24.95 |
Add to cart
New Concepts in Commerce, Student eWorkbook (Online Purchase), 3rd Edition is a student-centred resource designed to be used as a companion to the student textbook New Concepts in Commerce Third Edition. The workbook is available in a choice of two convenient formats — print and digital.

KEY FEATURES

• An expanded range of worksheets reviews, consolidates and extends the textbook
• Worksheets are provided in Word and PDF formats.
• Students can print out and complete PDFs or complete in Word and submit electronically.
• Coverage of the four core syllabus topics of Consumer Choice, Personal Finance, Law and Society, and Employment Issues.
• Worksheets focus on the literacy, practical, thinking and study skills needed for success in Commerce.
• The workbook can be used variously for classwork, homework or revision.

New Concepts in Commerce 3E, Student eWorkbook is a digital-only student workbook that provides access to the student workbook.





Chapter 1 Consumer choice
Chapter 2 Personal finance
Chapter 3 Law and society
Chapter 4 Employment issues