Outcomes 1 Preliminary Course 4E eBookPLUS (Online Purchase)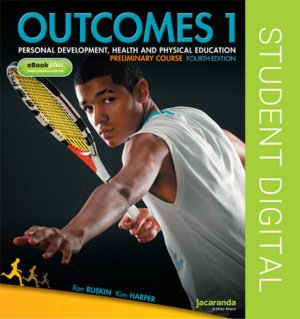 Title information

| | |
| --- | --- |
| Author/s | Ruskin |
| ISBN13 | 9780730308751 |
| Pub date | October 2014 |
| Pages | 0 |
| RRP | $49.95 |
Add to cart
A new edition of Jacaranda Outcomes 1 PDHPE Preliminary Course 5e eBookPLUS is coming in 2018. The trusted market leader is now updated with new content, trends, research and case studies to engage students of all abilities and help them achieve exam success. You will be able to purchase this title later this year. To learn more about the series, visit the Jacaranda NSW Stage 6 PDHPE page.


Outcomes 1 Preliminary Course 4E eBookPLUS (Online Purchase) delivers comprehensive, authoritative coverage of the PDHPE Stage 6 Syllabus, providing questions and applications to encourage inquiry and skills development.
KEY FEATURES
• Formative preparation for the challenging HSC year through summaries, quizzes, revision tests and HSC-style questions.
• Comprehensive coverage of the 2009 Stage 6 Syllabus by reliable and respected authors.
• Both Core and Options chapters have been updated, particularly the statistics in tables, graphs and text in Preliminary Core 1.
• Preliminary Option 2 Composition and performance now available as an online only chapter.
• High quality illustrative material, particularly in Core 2.
• First Aid Option 1 updated to reflect current practice (DRSABCD).
• New Snapshots and case studies.
• New inquiry and application questions.
Outcomes 1 Preliminary Course 4th Edition eBookPLUS is a digital-only version of the textbook plus a wealth of multimedia resources accessed through our JacarandaPLUS website (www.jacplus.com.au).




> eBookPLUS resource includes:

• Access from any digital device PC/MAC/iPad/Android Tablet.
• Worksheets - Word documents designed for easy customisation and editing.
• Interactivities and games to reinforce and enhance student learning.
• eLessons - engaging video clips and supporting material.
• Weblinks to relevant support material on the internet.
• ProjectsPLUS - unique ICT-based projects that provide opportunities for students to demonstrate creativity, thinking skills and teamwork.
• eBookPLUS resources are cost effective, ranging in price from $25.95 - $53.95 depending on your subject area.
Preliminary Core 1: Better health for individuals
Chapter 1 - What does health mean for individuals?
Chapter 2 - What influences the health of individuals?
Chapter 3 - What strategies help to promote the health of individuals?
Preliminary Core 2: The body in motion
Chapter 4 - Body systems and movement
Chapter 5 - Physical fitness, training and movement efficiency
Chapter 6 - Biochemical principles and movement
Options
Chapter 7 - First aid
Chaper 8 - Composition and performance (eBook only)
Chapter 9 - Fitness choices
Chapter 10 - Outdoor recreation