Outcomes 2 HSC Course 5E eGuidePLUS (Online Purchase)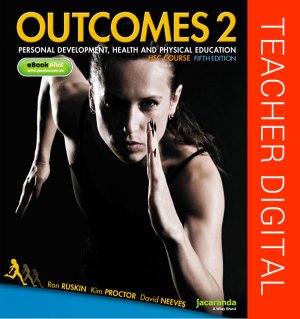 Title information

| | |
| --- | --- |
| Author/s | Ruskin |
| ISBN13 | 9781118598924 |
| Pub date | July 2013 |
| Pages | 0 |
| RRP | $114.95 |
Add to cart
A new edition of Jacaranda Outcomes 2 PDHPE HSC Course 6e eGuidePLUS is coming in 2018. The trusted market leader is now updated with new content, trends, research and case studies to engage students of all abilities and help them achieve exam success. You will be able to purchase this title later this year. To learn more about the series visit the Jacaranda NSW Stage 6 PDHPE page.


Outcomes 2 HSC Course 5E eGuidePLUS (Online Purchase) for teachers is an electronic version of the student textbook as well as a complementary set of targeted digital resources. These flexible and engaging ICT activities are available to you online at the JacarandaPLUS website (www.jacplus.com.au).
Your eGuidePLUS resources include:
• Marking criteria for practice exam
• Answers to chapter revision tests,summary quizzes and inquiry questions
• Sample work program

What is onlinepurchase?
Onlinepurchase is a Jacaranda digital only product.
Following payment you will receive a registration code via email.
Go to www.jacplus.com.au to register your code and access your digital resource.
Chapter 1: How are priority issues for Australia's health identified?
Chapter 2: What are the priority issues for improving Australia's health?
Chapter 3: Role of health-care facilities and services in achieving better health
Chapter 4: Actions required to address Australia's health priorities
Chapter 5: How does training affect performance?
Chapter 6: Psychology and performance
Chapter 7: Nutrition, recovery strategies and performance
Chapter 8: Skill and performance
Chapter 9: The health of young people
Chapter 10: Sport and physical activity in Australian society
Chapter 11: Sports medicine
Chapter 12: Improving performance
Chapter 13: Equity and health