Outcomes 2 HSC Course 5E eGuidePLUS (Online Purchase)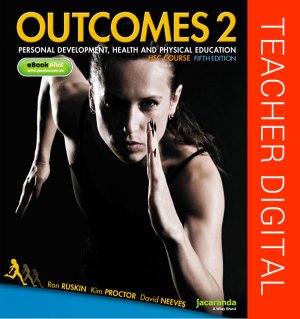 Title information

| | |
| --- | --- |
| Author/s | Ruskin |
| ISBN13 | 9781118598924 |
| Pub date | July 2013 |
| Pages | 0 |
| RRP | $114.95 |
Add to cart
Outcomes 2 HSC Course 5E eGuidePLUS (Online Purchase) for teachers is an electronic version of the student textbook as well as a complementary set of targeted digital resources. These flexible and engaging ICT activities are available to you online at the JacarandaPLUS website (www.jacplus.com.au).
Your eGuidePLUS resources include:
• Marking criteria for practice exam
• Answers to chapter revision tests,summary quizzes and inquiry questions
• Sample work program

What is onlinepurchase?
Onlinepurchase is a Jacaranda digital only product.
Following payment you will receive a registration code via email.
Go to www.jacplus.com.au to register your code and access your digital resource.