Physics 2 HSC Course 3E & eBookPLUS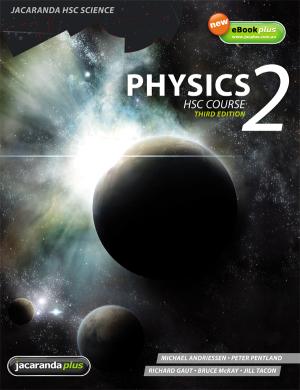 Title information

| | |
| --- | --- |
| Author/s | Andriessen |
| ISBN13 | 9780731408238 |
| Pub date | August 2008 |
| Pages | 560 |
| RRP | $84.95 |
Add to cart
Physics 2 HSC Course and eBookPLUS 3rd Edition
has been revised and updated to meet all the requirements of the amended
Stage 6 Physics Syllabus
for
Year 12 students in New South Wales
. Written by a team of experienced Physics teachers, this text offers a complete resource with coverage of the core modules as well as three option modules:
Quanta to Quarks, Astrophysics
and
Medical Physics
. An additional option topic,
The Age of Silicon
, is available online.
KEY FEATURES
• Full colour, high quality illustrations that enhance students' understanding of physics concepts
• Clearly written explanations and sample problems
• Key terms highlighted and defined within chapters and in a complete glossary
• Interest boxes focusing on up-to-date information, current research, issues and developments
• Practical activities at the end of each chapter to support the syllabus investigations
• Chapter reviews that provide a range of problem-solving and descriptive questions
Physics 2 HSC Course 3E & eBookPLUS is a hard copy of the student text, accompanied by eBookPLUS - an electronic version of the student textbook as well as a complementary set of targeted digital resources. These flexible and engaging ICT activities are available to you online at the JacarandaPLUS website (www.jacplus.com.au).




> eBookPLUS resources include:
• Access from any digital device PC/MAC/iPad/Android Tablet.
• Worksheets - Word documents designed for easy customisation and editing.
• Interactivities and games to reinforce and enhance student learning.
• eLessons - engaging video clips and supporting material.
• Weblinks to relevant support material on the internet.
• ProjectsPLUS - unique ICT-based projects that provide opportunities for students to demonstrate creativity, thinking skills and teamwork.
Chapter 1: Earth's Gravitational Field
Chapter 2: Launching Into Space
Chapter 3: Orbiting and Re-Entry
Chapter 4: Gravity in the Solar System
Chapter 5: Space and Time
Chapter 6: The Motor Effect and Dc Electric Motors
Chapter 7: Generating Electricity
Chapter 8: Generators and Power
Chapter 9: Ac Electric Motors
Chapter 10: Cathode Rays and the Development of Television
Chapter 11: The Photoelectric Effect and Black Body Radiation
Chapter 12: The Development and Application of Transistors
Chapter 13: Superconductivity
Chapter 14: Looking and Seeing
Chapter 15: Astronomical Measurement
Chapter 16: Binaries and Variables
Chapter 17: Star Lives
Chapter 18: The Use of Ultrasound in Medicine
Chapter 19: Electromagnetic Radiation as a Diagnostic Tool
Chapter 20: Radioactivity as a Diagnostic Tool
Chapter 21: Magnetic Resonance Imaging as a Diagnostic Tool
Chapter 22: The Atomic Models of Rutherford and Bohr
Chapter 23: Development of Quantum Mechanics
Chapter 24: Probing the Nucleus
Chapter 25: Nuclear Fission and other uses of Nuclear Physics
Chapter 26: Quarks and the Standard Model of Particle
What is JacarandaPLUS?
JacarandaPLUS is the on-line home of all our digital resources for teachers and students.
For teachers, there's eGuidePLUS. This gives instant access to on-line versions of both student and teacher texts and supporting multimedia resources, making teacher planning and preparation easier!
Students also have access to engaging digital support via eBookPLUS. This gives 24/7 access to the on-line text along with a wealth of ICT resources making student learning more engaging!
All JacarandaPLUS websites that host the eBookPLUS and eGuidePLUS will be live by the end of 2008 for use in 2009.
For further information call 1800 JAC PLUS (1800 522 7587) or go to
http://www.jacplus.com.au