Physics 2 VCE Units 3 and 4 eBookPLUS (Online Purchase) + StudyOn VCE Physics Unit 3 and 4 3E (Online Purchase)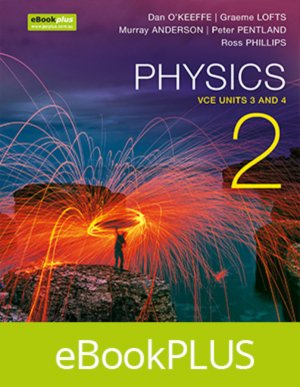 Title information

| | |
| --- | --- |
| Author/s | O'keeffe |
| ISBN13 | 9780730334064 |
| Pub date | January 2017 |
| Pages | 0 |
| RRP | $64.95 |
Add to cart
Physics 2 VCE Units 3 and 4 with eBookPLUS (Online Purchase) and studyON VCE Physics Units 3 and 4 3E eBookPLUS provides comprehensive coverage of the new VCAA study design for 2017-2021.
Jacaranda's unique exam preparation tool studyON is now included and fully integrated with the text, maximising every student's opportunity for exam success.
Jacaranda Physics 2 is the second title in its series. To view the rest of the titles in this series, click here.
Unit 3
Chapter 1: Forces in action
Chapter 2: Collisions and other interactions
Chapter 3: Special relativity
Chapter 4: Gravitational fields
Chapter 5: Electric fields
Chapter 6: Magnetic fields
Chapter 7: Generating electricity
Chapter 8: Transmission of power
Unit 4
Chapter 9: Sound waves
Chapter 10: Light as a wave
Chapter 11: The photoelectric effect
Chapter 12: Matter – particles and waves
Chapter 13: Practical investigation