Psychology VCE Units 1 and 2 7E & eBookPLUS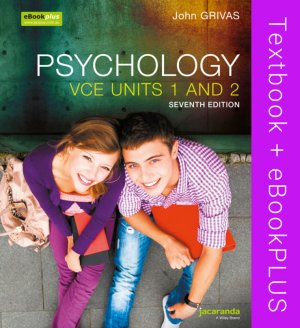 Title information

| | |
| --- | --- |
| Author/s | Grivas |
| ISBN13 | 9780730321330 |
| Pub date | December 2015 |
| Pages | 496 |
| RRP | $94.95 |
Add to cart
Jacaranda will be publishing an 8th edition of Jacaranda Psychology VCE Units 1 and 2, available in 2017 to align with the new Study Design accredited from 2016-2021. The updated title will be available as print with eBookPLUS, digital only and eGuidePLUS. Please visit the Jacaranda VCE Psychology page for more information.

Psychology VCE Units 1 and 2 7E with eBookPLUS provides comprehensive coverage of the VCAA Psychology Study Design accredited for 2016-2020.

Features and benefits

• Chapter openers outline relevance to the Study Design, offering students a clear and detailed pathway through the biopsychosocial approach of the course.
• A range of different learning activity types enhances student learning and the application of key skills.
• Logical, sequenced coverage of research methods and key science skills guides students through this core component of the study design.
• Special boxes throughout the text allow students to engage with high-interest and real-world psychology in theory and practice.
• End of chapter summaries and VCE-style tests allow students to revise and check their understanding.

Students can rely on Jacaranda's dedicated customer service and support.

Psychology VCE Units 1 and 2, Seventh edition is a hard-copy student text that includes eBookPLUS.


preface vii
about eBookplUs ix
acknowledgements x

Psychology — Introduction and research methods

Chapter 1 Introduction to psychology 2
Defining psychology and its subject matter 3
Scientific nature of psychology 5
Scientific vs non-scientific explanations 6
Classic and contemporary perspectives in psychology 8
Careers and areas of specialisation in psychology 9
Overview of VCE Psychology 12

Chapter 2 Research methods in psychology 14
Steps in psychological research 16
Research methods 19
Types of data 56
Organising, presenting and interpreting data 58
Ethics in psychological research and reporting 69
Use of animals in psychological research 75
Reporting conventions 78

UNIT 1: How are behavior and mental processes shaped?

Chapter 3 Role of the brain in mental processes and behaviour
Complexity of the brain 94
Approaches over time to understanding the role of the brain 97
First brain experiments 103
Nervous system: structure and function 113
Role of the neuron 118
Glial cells 121
Structure and function of brain areas 122
Roles of the cerebral cortex 129

Chapter 4 Brain plasticity and brain damage 146
Brain development in infancy and adolescence 147
Impact of injury to the cerebral cortex and adaptive plasticity 151
Parkinson's disease 163

Chapter 5 The complexity of psychological development 174
Defining development 175
Areas of development 176
Interaction of different areas of development 177
How psychological development proceeds 178
Interaction of hereditary and environmental factors in shaping psychological development 181
Sensitive and critical periods in psychological development 187
Twin studies and adoption studies 190
Attachment and emotional development 194
Development of cognitive abilities 206
Psychosocial development 218

Chapter 6 Atypical psychological development 232
Approaches to describing normality 234
Conceptualisation of normality 235
Mental health and mental disorder 236
Mental health as a product of internal and external factors 240
Categories of mental disorders 243
Labelling someone with a mental disorder 244
Addiction disorders 247
Anxiety disorders 255
Mood disorders 259
Personality disorders 268
Psychotic disorders 272
The 'two-hit' hypothesis as an explanation for the development of schizophrenia 280

UNIT 2: How do external factors influence behaviour and mental processes?

Chapter 7 Sensation and perception 290
Distinction between sensation and perception 292
Reception, processing and interpretation of sensory information 292
Visual perception 294
Taste perception 320
Influences on taste perception 323

Chapter 8 Distortions of perception 334
Visual illusions 336
Judgment of flavours 341
Synaesthesia 345

Chapter 9 Social cognition 352
Person perception — forming impressions of other people 354
Attribution — explaining behaviour 360
Attitudes 364
Attitudes and behaviour 370
Factors influencing attitude formation 372
Stereotypes, prejudice and discrimination 376

Chapter 10 Social influences on behaviour 390
Social influence 392
What is a group? 392
Status and social power within groups 394
Influence of status and social power within groups 396
Obedience 401
Conformity 409
Influences on helping behaviour 418
Influences on reluctance to help 429
Bullying 434
Influences of media on behaviour 440
answers 457
glossary 458
References 468
index 478