Psychology VCE Units 1 and 2 8E & eBookPLUS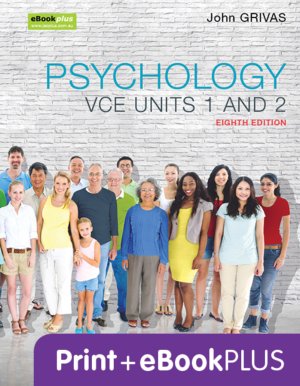 Title information

| | |
| --- | --- |
| Author/s | Grivas |
| ISBN13 | 9780730345978 |
| Pub date | October 2017 |
| Pages | 624 |
| RRP | $94.95 |
Add to cart
Psychology VCE Units 1 and 2 8e eBookPLUS & Print
This combined print and digital title provides a clear and detailed pathway through the biopsychosocial approach of the new Study Design for 2016-2021.

Written by experienced and highly regarded author John Grivas, the new edition addresses teacher feedback and incorporates the June 2017 Study Design updates, particularly to the mental health and research methods chapters. Beyond changes to the content, a new design gives the text a distinctive and even more engaging look.

The textbook comes with a complimentary activation code for eBookPLUS, which provides students with opportunities to extend their knowledge and skills by engaging with videos, interactivities and links to relevant content on the internet.
Introduction and Research Methods
Chapter 1: Introduction to psychology
Chapter 2: Research methods in psychology
Unit 1: How are behaviour and mental processes shaped?
Chapter 3: Role of the brain in mental processes and behaviour
Chapter 4: Brain plasticity and brain damage
Chapter 5: The complexity of psychological development
Chapter 6: Atypical psychological development
Unit 2: How is wellbeing developed and maintained?
Chapter 8: Distortions of perception
Chapter 9: Social cognition
Chapter 10: Social influences on behaviour