Psychology VCE Units 3&4 6E eBookPLUS & Print + StudyOn VCE Psychology U3&4 3E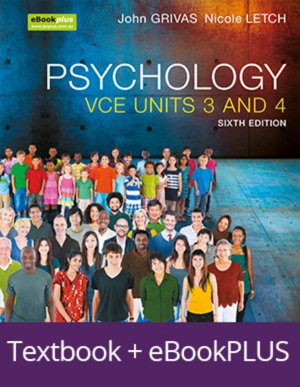 Title information

| | |
| --- | --- |
| Author/s | Grivas |
| ISBN13 | 9780730328407 |
| Pub date | December 2016 |
| Pages | 0 |
| RRP | $94.95 |
Add to cart
A new edition of Psychology VCE Units 3 & 4 7e Print & eBookPLUS + studyON is coming in 2018. The trusted market leader updated to reflect the Study Design changes, along with content and layout updates to make it even more accessible for every student – helping them achieve exam success. You will be able to purchase this title later this year, to learn more about the series visit the Jacaranda VCE Psychology page.


Psychology VCE Units 3 and 4 6E eBookPLUS (Online Purchase) and studyON VCE Psychology Units 3 and 4 3E (Online Purchase) provides comprehensive coverage of the new VCAA study design for 2017-2021.
Jacaranda's unique exam preparation tool studyON is now included and fully integrated with the text, maximising every student's opportunity for exam success.
Jacaranda Psychology Units 3 & 4 is the second title in its series. To view the rest of the titles in this series, click here.
Unit 3: How does experience affect behaviour and mental processes?
Research Unit: Psychology – Research Methods
Chapter 1: Research methods in psychology
Chapter 2: Nervous system functioning
Chapter 3: Stress as a psychobiological process
Chapter 4: Neural basis of learning and memory
Chapter 5: Models to explain learning
Chapter 6: Process of memory
Chapter 7: Reliability of memory
Unit 4: How is wellbeing developed and maintained?
Chapter 8: Nature of consciousness
Chapter 9: Sleep
Chapter 10: Sleep disturbances
Chapter 11: Mental health
Chapter 12: Mental disorder
Chapter 13: Specific phobia
Chapter 14: Maintenance of mental health