Quest for Health & Physical Education Year 7 & 8 Australian Curriculum Edition eBookPLUS (Online Purchase)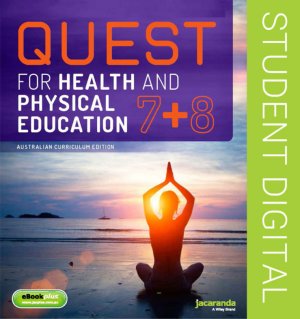 Title information

| | |
| --- | --- |
| Author/s | Ruskin |
| ISBN13 | 9780730314950 |
| Pub date | January 2015 |
| Pages | 0 |
| RRP | $49.95 |
Add to cart

Quest for Health & Physical Education Year 7 and 8 Australian Curriculum Edition eBookPLUS (Online Purchase) delivers an engaging suite of rich media resources created specifically for the Australian Curriculum. It provides a complete package for motivating students and heightening their understanding through hands-on experience.

KEY FEATURES

• Extensive use of the e5 instructional model assists in lesson planning and efficient time use with content divided into lesson-based sections.
• Chapter opener eLessons to bring Health and PE to life.
• Lesson-based sections to assist in lesson planning.
• Brand new interactivities, quizzes and worksheets.
• Key terms are highlighted (and defined when rolled over).
• Essential questions and checklists appear at the start and end of the chapters to promote discussion and reflection on learning.

Quest for Health & Physical Education Year 7 & 8 Australian Curriculum Edition eBookPLUS is a digital-only resource and provides access to all the course content. It also includes a wealth of multimedia resources accessed through our JacarandaPLUS website (http://www.jacplus.com.au/).


> eBookPLUS resources include:

• Access from any digital device PC/MAC/iPad/Android Tablet.
• Worksheets - Word documents designed for easy customisation and editing.
• Interactivities and games to reinforce and enhance student learning.
• eLessons - engaging video clips and supporting material.
• Weblinks to relevant support material on the internet.
• ProjectsPLUS - unique ICT-based projects that provide opportunities for students to demonstrate creativity, thinking skills and teamwork.
• eBookPLUS resources are cost effective, ranging in price from $25.95 - $53.95 depending on your subject area.
Personal, social and community health
1. Being healthy, safe and active
2. Communicating and interacting for health and wellbeing
3. Contributing to healthy and active communities
Movement and physical activity
1. Moving our body
2. Understanding movement
3. Learning through movement