Retroactive 10 Australian Curriculum for History eBookPLUS (Online Purchase)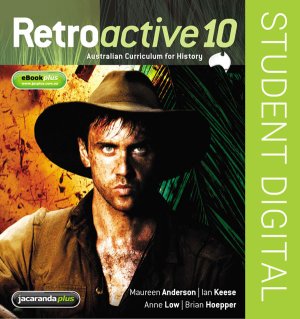 Title information

| | |
| --- | --- |
| Author/s | Anderson |
| ISBN13 | 9780730338802 |
| Pub date | October 2012 |
| Pages | 0 |
| RRP | $34.95 |
Add to cart
Retroactive 10 for the Australian Curriculum eBookPLUS (Online Purchase) inspires your students by bringing History to life with fascinating historical sources, rare archival footage and interactive timelines that encourage historical inquiry. Jacaranda's latest resources for Australian Curriculum History offer new ways to engage history students. High impact artwork, a wealth of sources and structured activities build on the popular features of Jacaranda's previous best-selling editions.
Retroactive 10 for the Australian Curriculum eBookPLUS
is a digital-only version of the textbook and a complementary set of targeted digital resources. These flexible and engaging ICT activities are available online at the JacarandaPLUS website (
http://www.jacplus.com.au/
).
> eBookPLUS resources include:
• Access from any digital device PC/MAC/iPad/Android Tablet.
• Worksheets - Word documents designed for easy customisation and editing.
• Interactivities and games to reinforce and enhance student learning.
• eLessons - engaging video clips and supporting material.
• Weblinks to relevant support material on the internet.
• ProjectsPLUS - unique ICT-based projects that provide opportunities for students to demonstrate creativity, thinking skills and teamwork.
Overview: The Modern World and Australia
CHAPTER 1 - The modern world and Australia (1918 - 1939)
Depth Study 1: World War II
CHAPTER 2 - World War II (1939 -1945)
Depth Study 2: Rights and Freedoms
CHAPTER 3 - Rights and freedoms (1945 - present)
Depth Study 3: The Globalising World
CHAPTER 4 - Popular culture (1954 - present)
CHAPTER 5 - The environment movement (1960s - present)
CHAPTER 6 - Migration experiences (1945 - present)