Retroactive 2 NSW Australian Curriculum History Stage 5: The Making of the Modern World and Australia eGuidePLUS (Online Purchase)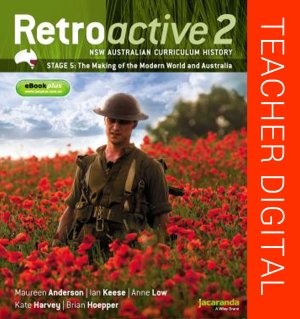 Title information

| | |
| --- | --- |
| Author/s | Stahl |
| ISBN13 | 9781118599211 |
| Pub date | December 2013 |
| Pages | 0 |
| RRP | $139.95 |
Add to cart
Jacaranda will be publishing a 2nd edition of Jacaranda Retroactive 2 Stage 5 for the NSW Australian curriculum in 2017 for use in 2018. The updated title will be available as print or a new eBook powered by learnON, the immersive digital learning platform. Please visit the Jacaranda NSW Australian curriculum History page for more information.

Retroactive 2 NSW Australian curriculum History Stage 5: The Making of the Modern World and Australia eGuidePLUS (Online Purchase) provides teachers with access to a complementary set of targeted digital resources as well as access to the student eBookPLUS. These flexible and engaging ICT activities are available to you online at the JacarandaPLUS website (www.jacplus.com.au).
Your eGuidePLUS resources include:
• Access to the complete student eBookPLUS
• Teaching points and curriculum links
• Answers to all student activities
• Answers to student worksheets in eBookPLUS
• Answers to end of topic tests
• NSW syllabus for the Australian curriculum links grids for the entire text
• Sample teaching programs
• Teacher access portal for ProjectsPLUS

What is onlinepurchase?
Onlinepurchase is a Jacaranda digital only product.
Following payment you will receive a registration code via email.
Go to www.jacplus.com.au to register your code and access your digital resource.
OVERVIEW: The Making of the Modern World
Overview 1:
The Making of the Modern World
DEPTH STUDY 1: Making a Better World?
Topic 1a - The Industrial Revolution
Topic 1b - Movement of peoples
Topic 1c - Progressive ideas and movements (online only)
   
 
DEPTH STUDY 2: Australia and Asia
Topic 2a - Making a nation
Topic 2b - Asia and the World (China)
DEPTH STUDY 3: Australians at War (World Wars I and II)
Topic 3a - World War I
Topic 3b - World War II
OVERVIEW 2: The Modern World and Australia
Overview 2:
The Modern World and Australia
DEPTH STUDY 4: Rights and Freedoms (1945 – present)
Topic 4 - Rights and freedoms (1945 – present)
DEPTH STUDY 5: The Globalising World
Topic 5a - Popular culture
Topic 5b - The environment movement (online only)
  
Topic 5c - Migration experiences
DEPTH STUDY 6: School-developed topic
Topic 6a - The Holocaust (online only)
  
Topic 6b - Australia in the Vietnam War era (online only)