Retroactive 7 Australian Curriculum for History & eBookPLUS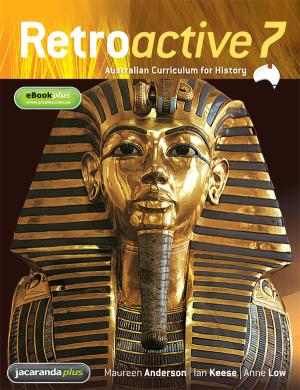 Title information

| | |
| --- | --- |
| Author/s | Anderson |
| ISBN13 | 9780730337904 |
| Pub date | June 2012 |
| Pages | 264 |
| RRP | $54.95 |
Add to cart
Retroactive 7 Australian Curriculum for History with eBookPLUS
provides an engaging and in-depth coverage of the new Australian Curriculum for History. Designed to develop students' understanding of key historical concepts and inquiry skills, the text integrates an authoritative coverage of topic content with a stimulating range of sources and graded activities.
Features:
• Overview chapters including links to relevant units in the depth study electives where units are based on the main content areas in each overview
• Depth study chapters provide a detailed coverage of the content descriptions in each elective
• An in-depth coverage of curriculum content integrated with stimulating sources and structured activities to give students the resources to thoroughly investigate these key historical concepts
• A skills and understanding review at the end of depth study chapters to give students further skills practice
• A dedicated ICT activities spread for each chapter which highlights all the ICT resources in eBookPLUS
Retroactive 7 Australian Curriculum for History eBookPLUS is an electronic version of the textbook and a complementary set of targeted digital resources. These flexible and engaging ICT activities are available online at the JacarandaPLUS website (www.jacplus.com.au).
The eBookPLUS includes:
• ProjectsPLUS, a unique ICT-based project which uses an exciting new research management system featuring media, templates and videos
• Interactivities and games to enhance student understanding through hands-on experience
• Video eLessons to bring key concepts to life
• Weblinks to useful support material on the internet
Click to view Retroactive 7 Australian Curriculum for History eBookPLUS.
Click here to view our range of History for the Australian Curriculum Value Packs
About Retroactive vii
About the authors ix
Retroactive and the Australian Curriculum: History x
About eBookPLUS xii
Inside your Retroactive eBookPLUS xiii
Acknowledgements xiv

DEPTH STUDY 1: Investigating the ancient past
Chapter 1 Investigating the ancient past 2
1.1 Investigating the past 4
1.2 Methods for investigating the past 6
1.3 Investigating human remains 10
1.4 Sources: the historian's clues 14
1.5 Sources for ancient Australia 16
1.6 Questioning and analysing sources 20
1.7 Perspectives and interpretations in history 24
1.8 Time in the past 26
1.9 Conserving our heritage 28
1.10 Saving Abu Simbel's temples 32
Skills and understanding review 34
ProjectsPLUS 36

OVERVIEW: The ancient world (60 000 BCE – c.650 CE)
Chapter 2 Overview: The ancient world 38
2.1 From Africa to the world 40
2.2 Traces of the past 42
2.3 Settlement and civilisation 55

DEPTH STUDY 2: The Mediterranean world
Chapter 3 Ancient Egypt 70
3.1 Chronology 72
3.2 Physical features 74
3.3 Society and the law 78
3.4 Women, home and family 80
3.5 Working life 82
3.6 Beliefs, values and practices 86
3.7 Death, magic and mummies 90
3.8 The pyramids at Giza 94
3.9 King Tut's tomb 96
3.10 Rameses II 98
3.11 Contact and confl ict 100
Skills and understanding review 106
ProjectsPLUS 108

DEPTH STUDY 2: The Mediterranean world
Chapter 4 Ancient Greece 110
4.1 Chronology 112
4.2 Early civilisations in the Mediterranean 114
4.3 Geography and resources 116
4.4 Athens: political and social structures 118
4.5 Daily life in Athens 122
4.6 Sparta: political and social structures 124
4.7 Greeks at war 126
4.8 Technology, thinking and the arts 130
4.9 Religion and the Greeks 134
4.10 The Olympic Games 136
4.11 Two famous Greeks 138
Skills and understanding review 140
ProjectsPLUS 142
DEPTH STUDY 2: The Mediterranean world
Chapter 5 Ancient Rome 144
5.1 Chronology 146
5.2 Geography and resources 148
5.3 Wars with Carthage 150
5.4 The Roman Republic: political and social
structures 152
5.5 Military structures 154
5.6 Caesar's rise to power 156
5.7 The Roman Empire: rule and decline 160
5.8 Daily life of the Romans 164
5.9 Roman religion 168
5.10 Roman holidays: festivities and games 170
5.11 Heritage of the Romans 172
Skills and understanding review 176
ProjectsPLUS 178

DEPTH STUDY 3: The Asian world
Chapter 6 Early Imperial China 180
6.1 Chronology 182
6.2 Geography 186
6.3 Qin Shi Huangdi 188
6.4 Society, status and roles 190
6.5 Farming and irrigation 192
6.6 Everyday experiences 194
6.7 Beliefs, values and practices 198
6.8 The Xian terracotta warriors site 200
6.9 Contact, confl ict and trade 202
6.10 China's impact 204
Skills and understanding review 206
ProjectsPLUS 208

DEPTH STUDY 3: The Asian world
Chapter 7 Ancient India 210
7.1 Chronology 212
7.2 India: the land and its people 214
7.3 Indus Valley civilisation 216
7.4 Aryan invasions 218
7.5 Beliefs and philosophies 220
7.6 The fi rst Indian Empire 222
7.7 The spread of Indian infl uence 224
7.8 The Gupta Empire 226
7.9 Daily life in ancient India 228
7.10 Art, architecture and literature 230
7.11 Technology and science 232
7.12 Ancient India's impact on the world 234
Skills and understanding review 236
ProjectsPLUS 238
Glossary 240
Index 243