StudyOn HSC Business Studies 2E Teacher Edition (Online Purchase)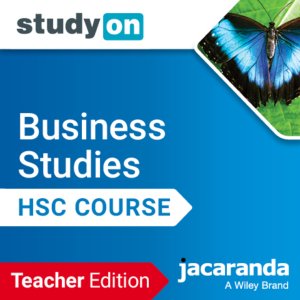 Title information

| | |
| --- | --- |
| Author/s | Jacaranda |
| ISBN13 | 9780730358329 |
| Pub date | October 2018 |
| Pages | 0 |
| RRP | $114.95 |
Add to cart
studyON HSC Business Studies Teacher Edition 2e
This the teachers' portal: a powerful diagnostic tool that enables teachers to track and assign activities, plus monitor student progress at an individual, group or whole class level for immediate insight. studyON creates new opportunities for teachers to help their students to improve their HSC exam results by implementing independent study, revision and exam practice in Year 12.
Features and benefits
• Connect directly to your students, creating classes and custom groups.
• Assign practice questions, topic tests and sample semester exams for your students to complete.
• Monitor your students' activity, drilling down to pinpoint strengths and weaknesses.
• Report on student progress and generate and schedule reports.


The studyON Teacher Edition can be used as a complementary teaching resource for the Jacaranda Business Studies in Action 6e series.