StudyOn HSC Business Studies Teacher Edition (Online Purchase)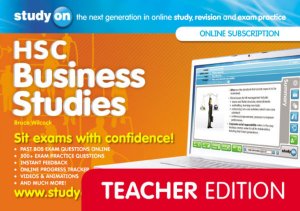 Title information

| | |
| --- | --- |
| Author/s | Wilcock |
| ISBN13 | 9780730340195 |
| Pub date | August 2011 |
| Pages | 0 |
| RRP | $114.95 |
Add to cart
studyON HSC Business Studies Teacher Edition
enables you to view student performance on practice questions and exam questions taken in
studyON HSC Business Studies Student Edition
.
Once connected to your students, you can set up classes and groups, and monitor and report on individual students' progress.
studyON HSC Business Studies Teacher Edition includes studyON HSC Business Studies Student Edition so that you access all the HSC Business Studies concept screens, videos, interactivities, past exam questions and more.
With studyON Teacher Edition you can monitor the progress of your students throughout the year and pinpoint areas that require further revision in the lead up to exams.
Start using studyON Teacher Edition in 3 easy steps:
1. Check students have connected to Teacher view
Your students will automatically appear in the 'unassigned students' list on the setup page of your teacher edition once they have 'connected' to you in their studyON student edition.
2. Set up your classes and groups
To view collective results you can create as many groups as you like, with students in multiple groups.
3. Monitor &/or Report results
The 'Monitor' feature allows you to view the studyON activity of each student for any period in the calendar year while the 'Report' section enables you to view student performance and results in a variety of ways. Reports created in studyON Teacher Edition can be exported and downloaded in Excel format.
Click here for more information on studyON HSC Business Studies Student Edition
What is onlinepurchase?
Jacaranda's digital products are available via onlinepurchase.
Following payment you will receive an email with your studyON Teacher Edition registration code.
Go to www.jacplus.com.au to register your code and access studyON.
 
Follow us:
Syllabus Area 10.1 Operations

Topic 1 Role of operations management
Topic 2 Influences
Topic 3 Operations processes
Topic 4 Operations strategies
Syllabus Area 10.2 Marketing
Topic 1 Role of marketing
Topic 2 Influences on marketing
Topic 3 Marketing processes
Topic 4 Marketing strategies
Topic 5 Marketing strategies and global marketing
Syllabus Area 10.3 Finance
Topic 1 Role of financial management
Topic 2 Influences on financial management
Topic 3 Processes of financial management
Topic 4 Financial management strategies
Syllabus Area 10.4 Human resources
Topic 1 Role of human resource management
Topic 2 Key Influences
Topic 3 Processes of human resource management
Topic 4 Strategies in human resource management
Topic 5 Effectiveness of human resources management