The Healthy Body Cookbook & eBookPLUS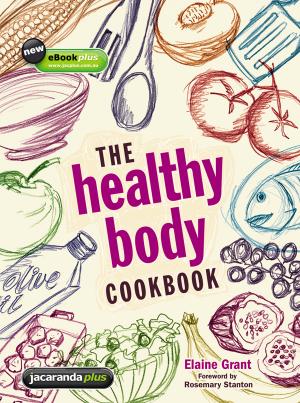 Title information

| | |
| --- | --- |
| Author/s | Grant |
| ISBN13 | 9780731406906 |
| Pub date | June 2008 |
| Pages | 136 |
| RRP | $39.95 |
Add to cart
A recipe for a healthy body!
Learning about how to have a healthy body has never been so much fun - or so delicious!
The Healthy Body Cookbook is more than a recipe book. While it presents over 60 nutritious dishes that are easy to prepare and cook, it also provides essential information about the vital role that nutrition and exercise play in the body's systems. All the recipes and activities are teen-tested and the recipes require only simple, readily available ingredients and utensils.
Features
Practical cooking skills, hygiene and safety rules
Explanation of the technology process
Recipes, information and activities for all the body's systems
Recipes are rated from easy to moderate difficulty and have a nutritional analysis
Information on food choice models such as the Australian Guide to Healthy Eating and the Healthy Eating Pyramid
Useful appendices such as how to read a food label, glossary of terms, recipe and subject indexes
Food Technology, Home Economics, Health and Physical Education teachers as well as parents and teens will appreciate this book for its practical and fun approach to nutrition and physical activity.
TheHealthy Body Cookbook eBookPLUS is an electronic version of the entire textbook and supporting materials. These flexible and engaging resources are available online at the JacarandaPLUS website (www.jacplus.com.au)

The eBookPLUS includes:
• an electronic version of the entire student textbook
• weblinks to the latest research and information
Click here to view The Healthy Body Cookbook eBookPLUS.
PART 1: DISCOVERING THE KITCHEN
Kitchen utensils
Cooking skills
Cutting
Measuring
Mixing
Stove-top cooking
Oven cooking
Cracking and separating eggs
ACTIVITY- Practise your cooking skills
Safety rules
Around the stove and oven
Using any appliance
Using the microwave
Using a knife
Cleaning up
ACTIVITY - Practise your knife skills
Hygiene rules
Personal hygiene
Food and kitchen hygiene
ACTIVITY - Do you know how to handle food safely?
ACTIVITY - Practise your cooking and hygiene skills
Using the technology process
The technology process
ACTIVITY - Design brief
PART 2: YOUR AMAZING BODY
Chapter 1: Have a healthy heart
ACTIVITY - How fit is my heart?
HEALTHY HEART RECIPES
Apricot ricotta toast topper
Sang choy bow
Banana and pear whip
Honey sultana muffins
Berry-banana milkshake
Chapter 2: The travelling blood show
ACTIVITY - What stops bleeding from a cut?
HIGH-IRON RECIPES
Tex-mex rissoles
Fruit and nut energy mix
Jumping bean nachos
Waldorf salad
Chapter 3: Muscular motions
ACTIVITY - Why is it a good idea to warm up before exercising?
PROTEIN-BOOSTER RECIPES
Toasted ham and egg
Tuna roll-ups
Crunchy chicken fingers
Spicy fried rice
Summer smoothie
Chapter 4: Long, strong bones!
ACTIVITY- My hip bone's connected to which bone?
HIGH-CALCIUM RECIPES
Greek Salad
Cheesy-topped toasties
Beef stir-fry
Fruit parfait
Chapter 5: Look mum, no cavities!'
ACTIVITY - Lunch attack: is your lunch box good for your teeth?
TOOTH-FRIENDLY RECIPES
Chicken burritos
Vegie crisps
Fast pizza
Fruity dip
Chapter 6: Healthy skin, hair and nails
ACTIVITY - Protecting my skin
VITAMIN A AND C RECIPES
Noodle salad
Honey and orange glazed sweet potatoes
Vegie fondue
Instant berry ice-cream
Melon frapp
Pawpaw and melon salad
Chapter 7: No-stress nerves
ACTIVITY- Brain strain
VITAMIN B RECIPES
Vietnamese chicken salad
Toasted banana triangles
Oat and apple muffins
Spiced fruit and nut mix
Chapter 8: Moving through the digestive system
ACTIVITY- Can high-fibre foods make me feel full?
HIGH-FIBRE RECIPES
Blueberry oatmeal muffins
Quick and easy minestrone soup
Beanie burgers
Rice salad with peanuts
Fruity rice
Fruity muesli bars
Pasta and tuna salad
PART 3: STAYING HEALTHY
Chapter 9: Food choice models
Enter the Healthy Eating Pyramid
ACTIVITY- Do I eat the Healthy Eating Pyramid way?
Enter the Australian Guide to Healthy Eating
ACTIVITY- Do I eat the Australian Guide to Healthy Eating way?
HEALTHY PYRAMID RECIPES
Fruity ricotta toasts
Vegetable skewers
Cheesy-topped open sandwich
Spicy pasta salad
Pear and berry crumble
Pear, ginger and rocket salad
Chapter 10: No more couch potato!
Smart choices to get healthy
ACTIVITY: Energy to burn
CARBOHYDRATE RECIPES
Banana Hotcakes
Curried chicken salad
Corn bake
Wholemeal pecan carrot slice
Fruit lassi
Chapter 11: Maintaining a healthy weight
ACTIVITY - Which food has fewer kilojoules?
LOW-KILOJOULE RECIPES
Honey banana muffins
True blue pumpkin soup
Banana cookies
Healthy spring rolls
Vegie-topped omelette
Yoghurt berry cakes
Chapter 12: Disease fighters Go for 2 and 5 a day'
ACTIVITY - How does your fruit and vegie consumption measure up?
ACTIVITY - Thinking about fruit and vegetables
FRUIT AND VEGIE RECIPES
Vegie, Chickpea and risoni soup
Easy oven risotto
Spiced pumpkin and spinach salad
Vegie pikelets
Fruity chews
APPENDIX A How to read a food label
APPENDIX B Food labels - what do they mean?
APPENDIX C What is safe to eat?
Glossary
Recipe index
General index
What is JacarandaPLUS?
JacarandaPLUS is the on-line home of all our digital resources for teachers and students.
For teachers, there's eGuidePLUS. This gives instant access to on-line versions of both student and teacher texts and supporting multimedia resources, making teacher planning and preparation easier!
Students also have access to engaging digital support via eBookPLUS. This gives 24/7 access to the on-line text along with a wealth of ICT resources making student learning more engaging!
All JacarandaPLUS websites that host the eBookPLUS and eGuidePLUS will be live by the end of 2008 for use in 2009.
For further information call 1800 JAC PLUS (1800 522 7587) or go to
http://www.jacplus.com.au