VCE English for Success Units 3 & 4 eBookPLUS (Online Purchase)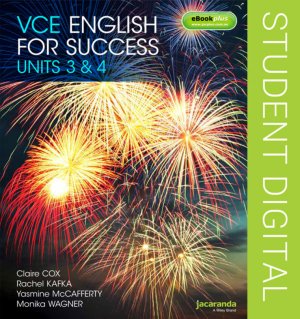 Title information

| | |
| --- | --- |
| Author/s | Warr |
| ISBN13 | 9780730310976 |
| Pub date | January 2015 |
| Pages | 0 |
| RRP | $54.95 |
Add to cart
VCE English for Success Units 3 & 4 eBookPLUS (Online Purchase) provides strategies and learning activities to lead students through the development of the skills in reading and responding, creating and presenting and using persuasive language needed for success in VCE English.

KEY FEATURES

• Detailed coverage of the three Areas of Study.
• Emphasis on metalanguage that enables students to build confidence in understanding the subject matter that forms the basis of the Study Design.
• Presentation of extracts from a wide range of popular novels, plays, non-fiction, media and multimedia texts with associated learning activities.
• Links to interactive worksheets, writing tasks, annotated sample essays and other valuable materials in the resources tab.
• Sample responses to assessment tasks, often annotated, provide strong models for students to emulate and thus improve their outcomes.

VCE English for Success Units 3 & 4 eBookPLUS is available as a digital-only resource that provides access to all the course content plus a wealth of multimedia resources accessed through our JacarandaPLUS website (http://www.jacplus.com.au/).




> eBookPLUS resource includes:

• Access from any digital device PC/MAC/iPad/Android Tablet.
• Worksheets - Word documents designed for easy customisation and editing.
• Interactivities and games to reinforce and enhance student learning.
• eLessons - engaging video clips and supporting material.
• Weblinks to relevant support material on the internet.
• ProjectsPLUS - unique ICT-based projects that provide opportunities for students to demonstrate creativity, thinking skills and teamwork.
• eBookPLUS resources are cost effective, ranging in price from $25.95 - $53.95 depending on your subject area.

Area of study 1: Reading and responding
Chapter 1 – Novels
Chapter 2 – Short Stories
Chapter 3 – Poetry and songs
Chapter 4 – Plays
Chapter 5 – Multimodal texts
Chapter 6 – Non-fiction texts



Area of study 2: Creating and presenting
Chapter 7 – The imaginative landscape
Chapter 8 – Whose reality?
Chapter 9 – Encountering conflict
Chapter 10 – Exploring issues of identity and belonging
Area of study 3: Using language to persuade
Chapter 11 – Using language to persuade (incorporating oral presentation)
Chapter 12 – Case study