VCE Food & Technology Units 1 & 2 3E eBookPLUS (Online Purchase)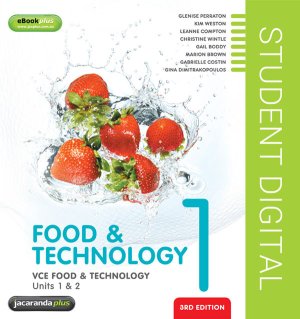 Title information

| | |
| --- | --- |
| Author/s | Weston |
| ISBN13 | 9781742460666 |
| Pub date | December 2010 |
| Pages | 0 |
| RRP | $54.95 |
Add to cart
VCE Food & Technology Units 1 & 2,
Third Edition eBookPLUS
is an electronic version of the textbook and a complementary set of targeted digital resources. These flexible and engaging ICT activities are available online at the JacarandaPLUS website (
www.jacplus.com.au
).
The eBookPLUS includes:
• video and audio eLessons featuring demonstrations of cooking activities by industry professionals
• interactivities to help students understand the concepts
• weblinks to the latest research and information
What is onlinepurchase?
Onlinepurchase
is a Jacaranda digital only product.
Following payment you will receive a registration code via email.
Go to
www.jacplus.com.au
to register your code and access your digital resource.
Click here to view VCE Food & Technology Units 1 & 2, Book 1 3rd Edition Textbook and eBookPLUS.
1. Food for the senses
2. Keeping food safe
3. Fruits and vegetables
4. Cereals
5. Meat, seafood and eggs
6. Dairy foods
7. Fats, oils, salt and sugar
8. Design it: the design process
9. Tools and equipment
10. Environmental & ethic considerations in food selections
11. Make it: optimising food properties
12. Preparation and production of food for health
13. Planning for social cultural purposes